EFQM Model 2020 Trainings
With our EFQM training portfolio we offer trainings that support and help develop your ambitions to become skilled in the application of the EFQM Model.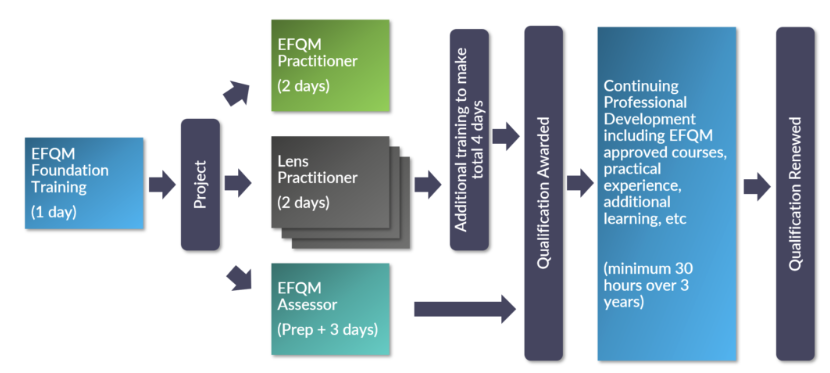 EFQM Foundation Training
This is the essential training for anyone who wants to find out about the EFQM Model and RADAR and how these tools can benefit an organisation. Whilst this training is effective as a stand-alone course, it is also the starting point for all EFQM qualification routes. See the training dates.
Post Foundation Training Projects
The EFQM Foundation Training provides the core knowledge about the EFQM Model. In some cases, the training will have fulfilled the learning needs of an individual. In many cases, the individual will want to consolidate his/her learning by applying the theory to a practical task. The post-Foundation Training projects provide an opportunity to consolidate the learning, as well as being a pre-requisite for the EFQM Assessor, Practitioner and Lens training courses.
The circumstances for every individual will differ so the list of suitable projects is designed to provide flexibility.
Upon completion of the project, a summary sheet should be completed and emailed to the person who delivered the Foundation Training.
EFQM Assessor Training
This training aims to equip participants to conduct a strategic assessment of an organisation as part of a high-performing EFQM assessment team. A case study based on a real company forms the basis for a simulated assessment. Participants are led through the various stages of the assessment whilst developing and practising their skills.
This 3-day training is the final stage in the EFQM Assessor qualification. See the training dates.
If you need any more information, please, do not hesitate to contact us. We are looking forward to hearing from you.
"All participants from our College of Dentistry at King Saud University in Riyadh as well as from other colleges and ministries have enjoyed the EFQM Foundation Training by ITQM. As a Certified EFQM Assessor (Model 2013), this training will help me a lot to know about the model changes and and how to implement the new Excellence Model in my organization. The best part of the training were the real life examples from different industries as well as education and health care sectors, presented by Dr. Karl. This training was for me definitely a very good opportunity to update my EFQM Excellence know-how."

Prof. Dr. M. Shoaib Ahmedani, Assistant Professor for Quality and Development, College of Dentistry, King Saud University, Riyadh, KSA

The EFQM L4E Training was very informative and helpful. It enriched my knowledge of how to drive improvements at the working place using the EFQM Excellence Model for Self-Assessment. The discussion around the EFQM Excellence Model and practical exercises were very beneficial.

Dr. Huda Abu Hamdeh, Dean, Ibra Nursing Institute – Ministry of Health, Ibra, OM

The EFQM L4E Training was an insightful and beneficial two-day-course which gave me an overview of the EFQM Model and the Fundamental Concepts of Excellence. I recommend this course to individuals who are new to the EFQM Model and also to individuals who already have some background in Excellence but want to refresh and expand their Excellence know-how. It is beneficial for all management staff, regardless of their field of work, as Excellence is a key component for high performance.

Mr. Mohammad Abdulrazaq Alawadhi, Global Quality Manager, Drydocks World, Dubai, UAE